About NCUFC
The North Carolina Urban Forest Council is a nonprofit organization that consists of individuals, citizen groups, nonprofit organizations, businesses, and agencies from around the state. All members share an interest in community and urban forestry and are dedicated to protecting and managing trees where we live, work, and play.
What We Do
NCUFC organizes educational programs for arborists, landscape contractors, and landscape planners/architects. These continuing education and training events help members of the tree care industry stay informed of the latest developments in arboriculture and maintain their licensing credentials. The Council also partners with local colleges and the tree care industry to promote careers in arboriculture among North Carolina youth. Lastly, we co-sponsor conferences with others in the green industry, such as the Green Industry Council, North Carolina Nursery and Landscape Association, North Carolina Cooperative Extension, and the North Carolina Forest Service.
The Council helps local tree advocacy groups achieve their unique goals for urban forest management. We provide these groups with a forum for networking and discussion, such as through the North Carolina Tree Advocacy Network. Additionally, we offer tree planting grants through our annual Legacy Tree Fund.
NCUFC promotes the socio-economic and ecological values of trees in our urban and rural communities. We educate elected officials and decision-makers about critical issues affecting the health of trees in North Carolina's communities. We continaully explore ways to inform all state residents about the importance of trees so that they adopt a new perspective about trees on private and municipal lands.
The Council partners with other entities to educate the public and facilitate sustainable forestry practices. In partnership with NC Cooperative Extension, we helped establish the Bradford Pear Bounty Program to replace invasive pear trees with trees native to North Carolina. We also work wth members of the North Carolina Urban Wood Group to salvage trees harvested on private property. The goal of this work group is to place felled trees in the hands of woodworkers, instead of in landfills.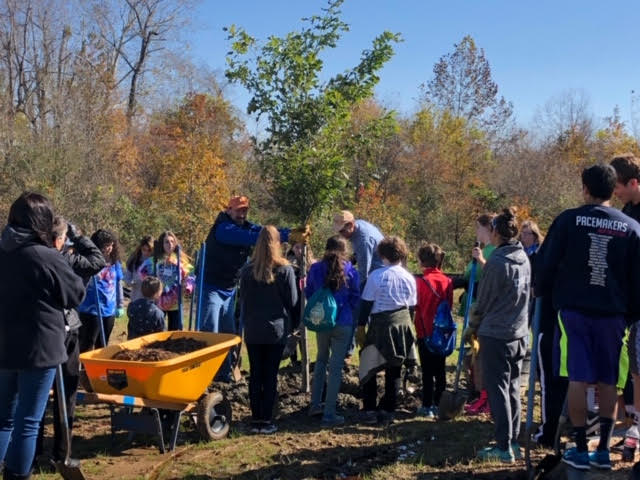 A 2018 tree planting event in Davidson, NC, through the Legacy Tree Fund.
Our source of funding
Financial support for NCUFC originates primarily from member donations and our following annual partners:
Subscribe to our Monthly eNewsletter
Email our Program Assistant to receive our newsletter each month. Click here to view our past newsletters, plus additional resources relevant to your tree care and advocacy efforts.