12th Annual Great NC Tree Conference
Sep 16, 2021 - Sep 17, 2021
8:00 a.m. - 5:00 p.m.
ONLINE CONFERENCE REGISTRATION IS NOW CLOSED.

Please contact Leslie Moorman with any questions at ncufc1@gmail.com

September 16-17, 2021
Durham, NC
Our 12th annual conference will focus on the health benefits of urban trees and green spaces, as well as the importance of managing to maintain healthy trees in a manner that provides accessibility to these benefits for all residents. Presentations by experts and practitioners will explore opportunities to integrate potential health benefits into management and planning. Our field day will feature tree management practices and landscape design projects that promote a healthy, diverse urban forest.
Keynote Speaker: Dr. Vivek Shandas
Vivek Shandas is a Professor of Climate Adaptation and Founding Director of the Sustaining Urban Places Research (SUPR) Lab at Portland State University. Dr. Shandas is trained as an urban ecologist and his research and community engagement practices intersect environmental health, green infrastructure and equity. He has published over 100 articles, three books, and his research has been featured in the NYTimes, National Geographic, Scientific American, and dozens of other national and local media. Dr. Shandas serves as Chair of the City of Portland's (Oregon) Urban Forestry Commission and serves on several local and national advisory boards. His presentation will reflect the ongoing challenges and opportunities for expanding tree canopy into areas that have been historically disinvested.
---
AGENDA
Thursday, September 16th
7:30 – 8:15 NCUFC Members Breakfast
8:30 - 10:00 am General Session
Welcome and Opening Remarks Mark Foster, NC Urban Forest Council Chair
Keynote Address: Green Space Planning in Historically Disinvested Urban Neighborhoods: Pitfalls, promises, and the path ahead. - Dr. Vivek Shandas, Portland State University
10:00 – 10:30 am Break with Exhibitors
10:30 – 11:15 pm C o n c u r r e n t S e s s i o n s
Green Heart Louisville: Assessing the Health Impacts of Tree Planting - Dr. Ray Yaeger, University of Louisville
Arboricultural Safety is a Team Sport - Dr. John Ball, South Dakota State University
11:20 – 12:15 pm C o n c u r r e n t S e s s i o n s
Achieving Equitable Urban Greening: Lessons Learned from the Green Heart Study - Dr. Lincoln Larson, NC State University
Summer in the City: Climate change & urban tree pests - Dr. Kelly Oten, NC State University
12:15 –1:15 Great NC Tree Learning Luncheon
Erin Kauffman, Executive Director, Durham Central Park, Inc.
1:30 – 2:15 pm C o n c u r r e n t S e s s i o n s
Healthcare Institutions as Community Tree Champions - Logan Donahue, Arbor Day Foundation
Incorporating beneficial organisms into your plant health care program - Dr. Kevin Chase, Bartlett Tree Research Laboratory
2:20 – 3:05 pm C o n c u r r e n t S e s s i o n s
EnviroAtlas: Capturing the Many Benefits of Trees - Anne Neale, EPA
Pruning the Neglected Tree - Dr. John Ball, South Dakota State University
3:05 – 3:35 pm Break with Exhibitors
3:35 – 5:00 pm General Session
Getting Down and Dirty- Soil Restoration - Dr. Barbara Fair, NC State University
Leaves, Trees, and Babies: The role of green space in improving lives of the most vulnerable populations - Dr. Vivek Shandas, Portland State University
Friday, September 17
9:00 – 3:00 Field Day at Durham Central Park with demonstrations and a walking tour
• Soil Remediation – Dr. Barbara Fair
• SRT/DRT climbing technique demonstration – Skillen Tree Care
• Pruning Difficult to Prune Trees – Bartlett Tree Experts and Dr. John Ball
• Walking Tour of Downtown Durham – City of Durham
---
Registration Fees:
Early Rate (before 9/6/21)
Both Days, Member: $135
Both Days, Non-Member: $185
Indoor Day 9/16 Only, Member: $110
Indoor Day 9/16 Only, Non-Member: $135
Field Day 9/17 Only, Member: $85
Field Day 9/17 Only, Non-Member: $125
---
Durham
Marriott

City Center is offfering a discounted conference attendee rate of 169 USD per night. Book early to take advantage of this rate! Link below:
---
Education Credits Applied For:
ISA: 8.75 CEUs INDOOR, 5 CEUs OUTDOOR

SAF: 9.5 Cat.1 CFEs

NC Pesticide Credits: 2 DLNX
NC Landscape Contractor: 1.5 L
NC Landscape Architect
---
Thank You to Our Sponsors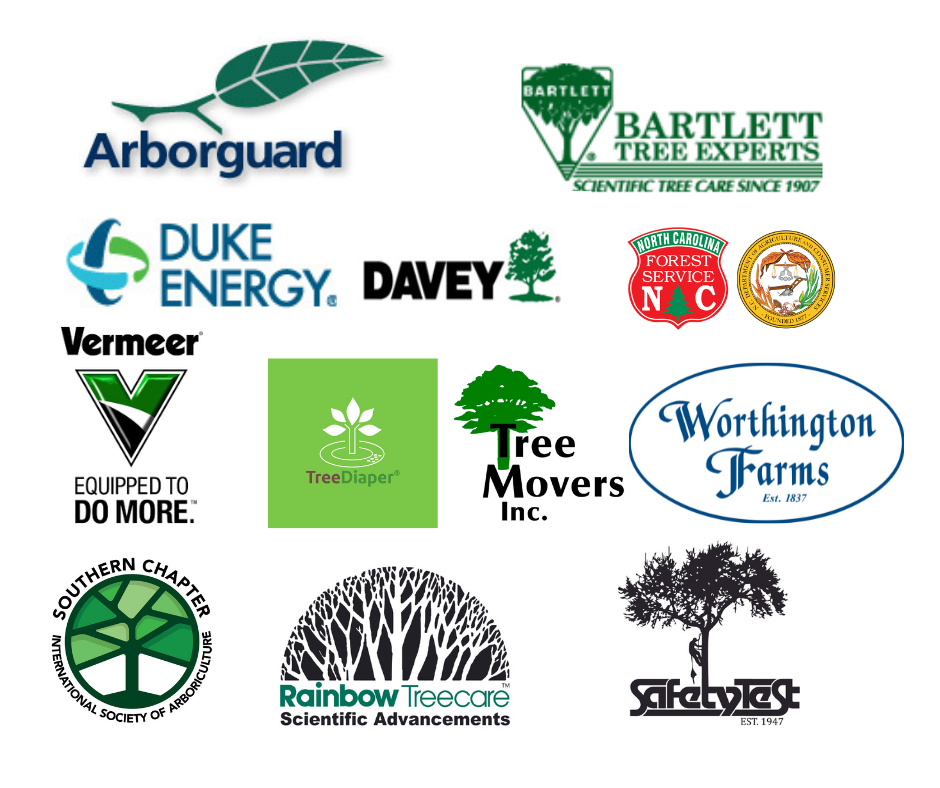 Durham Convention Center
Download Documents
Additional Options
Member Breakfast • $0.00
Vegetarian meals • $0.00