Legacy Tree Fund
The Legacy Tree Fund is North Carolina Urban Forest Council's flagship grant program. Established in 2010, this annual program helps urban and rural communities across North Carolina implement their tree-planting projects. Past recipients include community groups, civic associations, block clubs, garden clubs, and other non-profit organizations.
NCUFC prioriizes grant applications that include citizen engagement and help educate citizens about the invaluable roles trees play in our living, working, and playing environments.
Trees are good for business: Studies indicate people linger and shop longer along tree-lined streets. This translates into customers spending as much as 12% more compared to shopping districts lacking trees.
Trees save you money: Residents and business can save between 10% and 15% on their energy costs when they plant trees in the right location around their home and office.
Trees provide cleaner air: One acre of trees yield enough oxygen for 18 people. A single tree stores on average 13 pounds of carbon each year. A tree-lined block reduces street-level pollution by 60%.
Trees augment property value: Tree cover can increase a property's sale value by $9,500 and its total value by 6% ($2,686).
Trees provide ceaner water: Tree cover helps medium-sized cities save 10,886 tons of soil every year. Run-off pollution decreases by approximately 2% when a community increases its tree cover area by 5%.
Historically, NCUFC has issued $5,000 grants to multiple organizations each year. In 2023, however, we will the maximum grant amount to $15,000 for a single project. It is our hope that by investing more in a single project, while still assisting other groups with smaller grant needs, we will maximize our impact among awarded communities.
---
Asheville GreenWorks Receives the 2023 LTF Grant Award
In July 2023, the NCUFC Board of Directors reviewed multiple competitive applications for the Legacy Tree Fund. They agreed to support Asheville GreenWorks' request for $15,000. The approved project entitled, Building Climate Resilience through Urban Forestry in Heat Vulnerable Neighborhoods, will occur among multiple locations in Asheville.
Asheville GreenWorks has multiple components to its project, all of which will lead to the planting of approximately 720 trees in Asheville. They created this project in response to the City of Asheville's long-term development framework, "Living Asheville: A Comprehensive Plan for Our Future", which the city adopted in June 2018. Appendix D of the framework's Comprehensive Plan seeks to mitigate the impacts of climate change among Asheville residents.
Component 1:

Partner with NASA DEVELOP, Davey Resource Group, the City of Asheville, and NOAA to generate a database that identifies neighborhoods displaying low tree density, high heat vulnerability, and space for tree planting.
Component 2: Partner with community members and a residents association to plant 20-ball-and-burlap trees in the historically black Southside Neighborhood. Ten of those trees will be purchased with LTF money. This event will occur in Fall 2023.

Component 3:

Host multiple tree adoption events in four, multi-racial neighborhoods that are susceptible to heat vulnerability. The goal is donate 400 trees.
Component 4: Cultivate 300 native trees, two-thirds of which will be potted and maintained for the GreenWorks Fall 2024 Tree Adoption Event. The remaining 100 cultivars (grown on GreenWorks property) will be planted in public spaces.
This project will begin on 1 September 2023 and end on 31 May 2024.
---
Then & Now Stories
For twelve years, North Carolina Urban Forest Council has helped local communities beautify their lands with trees that generate environmental, economic, and mental benefits. Click on each project below to learn how we helped featured communities succeed in their goal of protecting and growing their urban/rural forest!
Check back for more Then & Now stories we are preparing!
---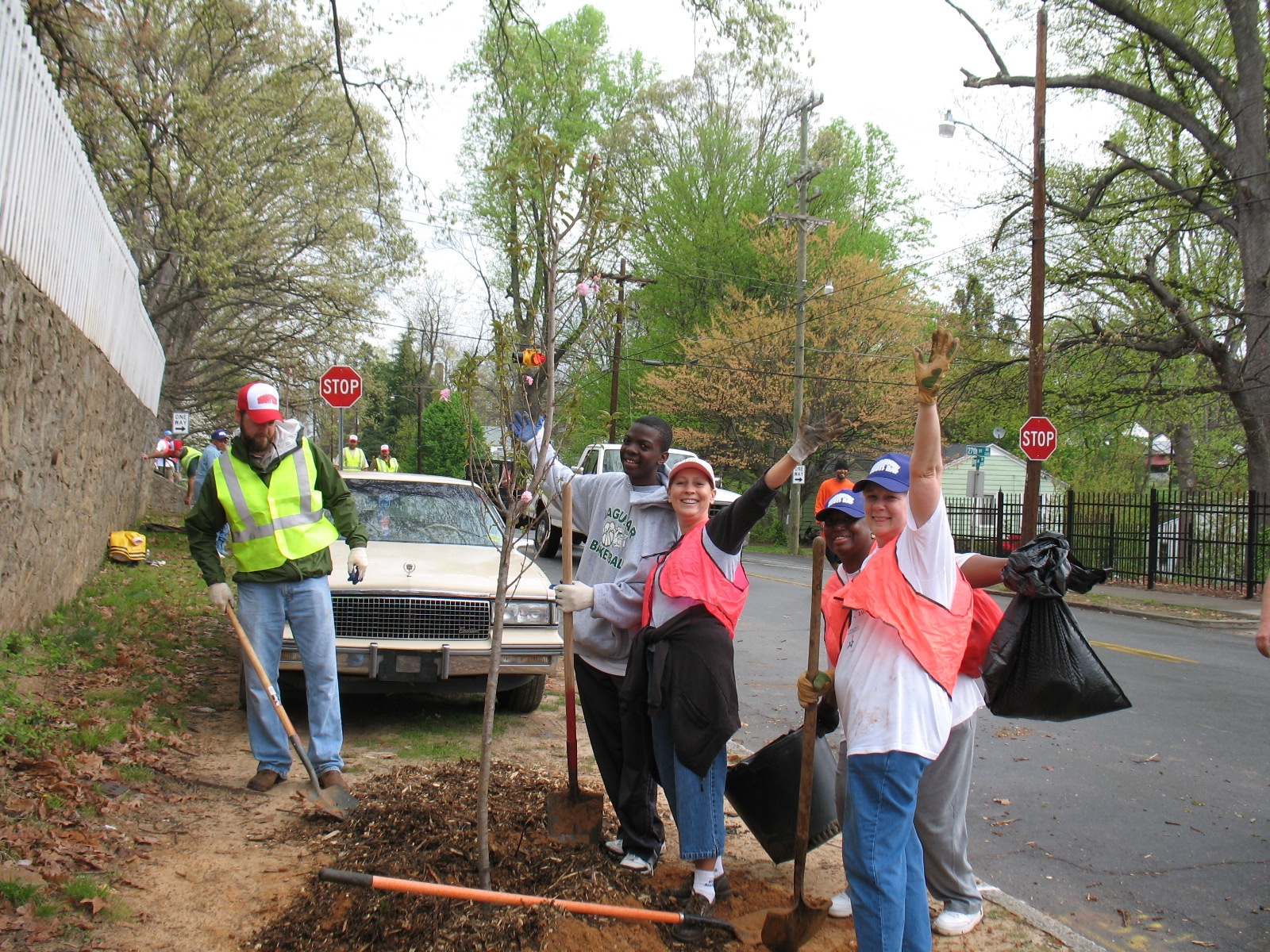 Plant your legacy!
The Legacy Tree Fund is primarily supported through grants and donations. With the generosity of North Carolina's citizens, we are be able to help keep our communities green. Your tax-deductible donation can make all the difference in protecting our urban tree canopy.
Your dollars will directly fund tree-planting programs across North Carolina. Help us plant native trees in NC communities so that everyone can reap the beneifts of vibrant and resilient urban forests. No contribution is too small! Click here to download the donation form.
Scroll to the end of this page to access our online donation form.
---
Application guidelines:
Any local government, non-profit community group, or public school can apply for a tree-planting grant. We seek projects that have a strong community commitment. Awarded grants will have citizens engaged in the project while also recruiting citizens to help plant the community's new trees. Additionally, we favor projects that include an environmental education component. We want more members of the public to understand the benefits of trees and how to properly care for them.
Your tree-planting project should align with one of the following tree conservation categories:
Storm Recovery Project: Ideal for a neighborhood or community that lost a large portion of its canopy cover during a strom event (e.g., hurricane, ice storm).
Street Tree Planting:

Appropriate for

right of ways along a city-maintained street, either in a median or between the street and sidewalk area. Homeowners living along the focal street must be involved in the project.
Natural Area Planting:

Perfect for communities that want to create

a natural wooded area, improve an existing woodlot's forest structure, generate habitat for wildlife, etc. The project could be along a creek or river to create a natural canopy. Note, arboretum type planting is not supported.
Neighborhood Planting:

Ideal for projects that occur anywhere in a neighborhood, excluding right of ways. Examples include community parks and other public spaces and even p

rivate property and front yards, as long as the designated area generates public benefits.
School Project:

Appropriate for public school properties. The student body must be involved in the project's implementation.

Arbor Day Event Planting:

Perfect for groups that want to celebarate

Arbor Day in connection with North Carolina community's Arbor Day event. Note, tree give away requests will not be accepted.
Storm Water Management: Geared toward projects that are connected to a larger stormwater management effort, such as creating a vegetated water catchment along a street or parking lot.
Download the Grant Guidelines and 2023 Request for Proposal
Download example application components from past grant projects.
The application period is closed and reopens in Spring 2024.
Application deadline is the end of May each year.
NCUFC notifies grant awardees in June or July.
Approved projects run for 9 months, from September through May.
---
Past Recipients:
2022 - Alliance for Cape Fear Trees, City of Oxford, ReLeaf Washington, Town of Matthews (Appearance $ Tree Advisory Committee), Town of Wilkesboro, TreesCharlotte, and Wilson Master Gardners
2020 - Greensboro Beautiful, Parks Conservancy of New Hanover County, TreesCharlotte, Town of Carrboro
2019 - Town of Oak Island, Alliance for Cape Fear Trees
2018 - Alliance for Cape Fear Trees, City of Wilson, Trees Davidson, City of Shelby, Trees Charlotte
2017 - Wilson County Botanical Gardens and Southwest Renewal Foundation of High Point
2016 - TreesCharlotte, Sustainable Sandhills, City of Durham, Onslow County
2015 - Greater Bath Foundation, Greenville ReLeaf, Asheville Greenworks, Town of Laurel Park
2014 - Keep Winston-Salem Beautiful, City of Wilson, City of Raleigh
2013 - Keep Durham Beautiful and City of New Bern
2012 - Town of Black Mountain and Cumberland County Schools, Ben Martin Elementary
2011 - City of Sanford
2010 - Town of Norwood