Legacy Tree Fund
The purpose of the NCUFC Legacy Tree Fund is to provide financial assistance to communities across North Carolina for tree-planting projects that help educate North Carolina citizens about the importance of trees and the role they play in improving air and water quality, reducing energy costs, increasing real estate values, providing wildlife habitat, and creating opportunities for residents to relax and enjoy nature.
Each year, we award grants to community groups, civic associations, block clubs, garden clubs, and other non-profit organizations for urban forestry projects involving tree planting.
---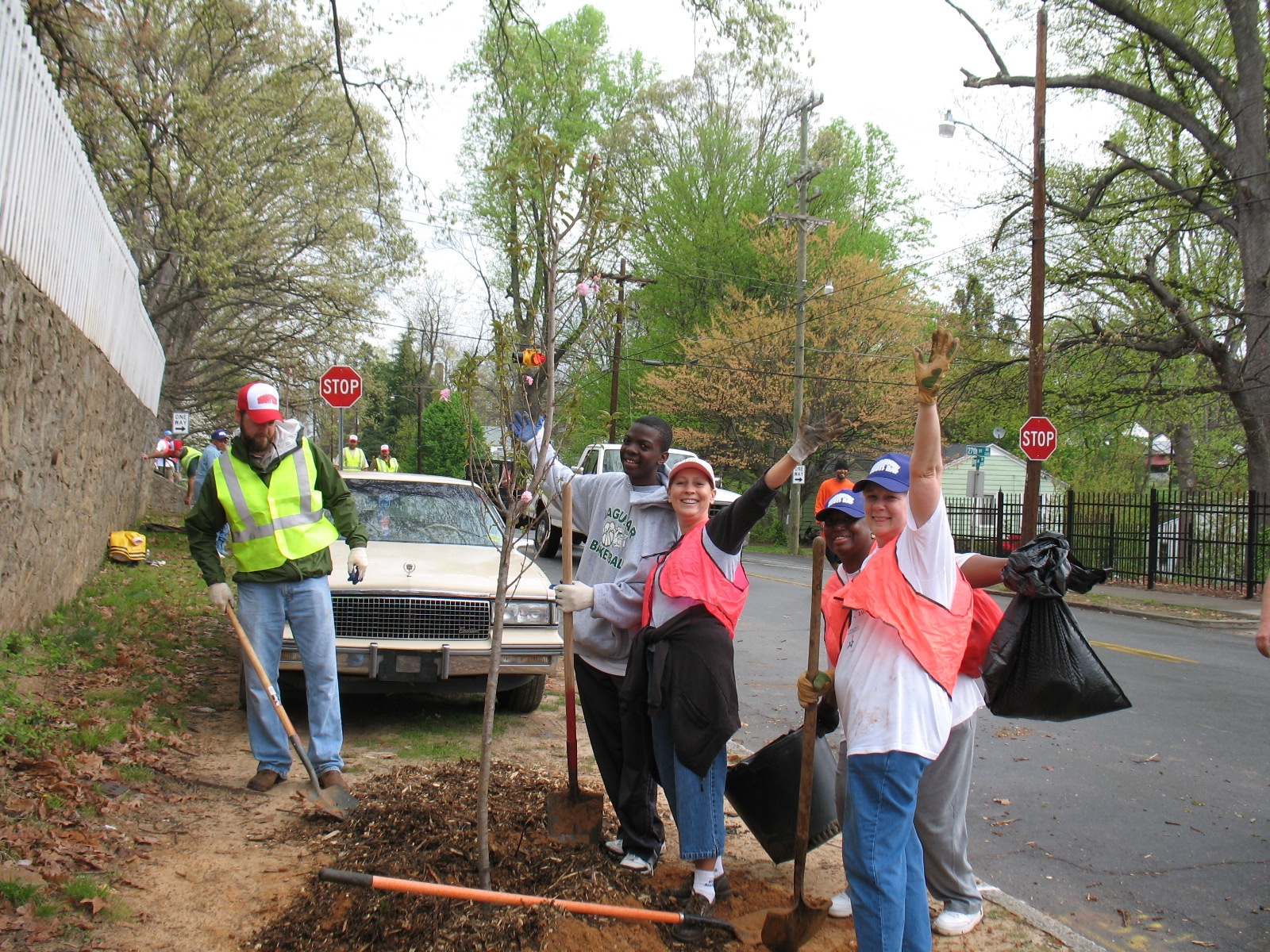 Plant Your Legacy!
The Legacy Tree Fund is primarily supported through grants and donations. Without the generosity of NC's citizens, we wouldn't be able to help keep our communities green. Your tax-deductible donation to the Legacy Tree Fund can make all the difference in protecting our urban tree canopy.
Your dollars will directly fund tree-planting programs across North Carolina. Help us reach our goal of planting 10,000 trees in NC communities....Donate Today!

Click here to download the form to donate by check
Interested in Applying for a Grant? Here's How:
Any local government, non-profit community group, or public school can apply for a tree-planting grant. We look for projects that have a strong community commitment—meaning that the citizens are actively involved and participate in the tree planting. We also look for projects that have an educational component, engages the citizens in learning about the benefits and care of trees, giving the citizen a better understanding of how to plant and care for a tree.
Your project should fit into one of the following tree-planting project categories:
Storm Recovery Project: a planting project in a neighborhood or community that was impacted by a storm event (hurricane or ice storm event), where a large portion of the canopy was impacted by the storm.
Street Tree Planting:

a planting project taking place within the right of way along a city-maintained street, either in a median or between the street and sidewalk area. This type of project should have the participation of homeowners living along the street where the planting is taking place.
Natural Area Planting:

a planting project that creates a natural wooded area, demonstrating forest structure, providing habitat for wildlife, etc. The project could be along a creek or river to create a natural canopy. This is not an arboretum type planting.
Neighborhood Planting:

this type of project would take place within a neighborhood, but not necessarily in the right of way. The trees could be planted on private property, in the front yards, but having a public benefit. This type of planting could also take place in a neighborhood park or public space.
School Project:

a tree-planting project taking place on public school property with the involvement of the student body.

Arbor Day Event Planting:

a tree planting in honor of Arbor Day. This should be part of a community NC Arbor Day celebration. This is not for a tree giveaway program.
Storm Water Management: a tree-planting project that is part of a larger stormwater management effort, creating vegetated water catchment areas along a street or parking lot.
Download the Grant Guidelines and 2022 Request for Proposal
Download example application components from past grant projects
---
Past Recipients:
2010 - Town of Norwood
2011 - City of Sanford
2012 - Town of Black Mountain and Cumberland County Schools, Ben Martin Elementary
2013 - Keep Durham Beautiful and City of New Bern
2014 - Keep Winston-Salem Beautiful, City of Wilson, City of Raleigh
2015 - Greater Bath Foundation, Greenville ReLeaf, Asheville Greenworks, Town of Laurel Park
2016 - TreesCharlotte, Sustainable Sandhills, City of Durham, Onslow County
2017 - Wilson County Botanical Gardens and Southwest Renewal Foundation of High Point
2018 - Alliance for Cape Fear Trees, City of Wilson, Trees Davidson, City of Shelby, Trees Charlotte
2019 - Town of Oak Island, Alliance for Cape Fear Trees
2020 - Greensboro Beautiful, Parks Conservancy of New Hanover County, TreesCharlotte, Town of Carrboro